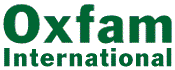 [Photo: Rwandan people returning from refugee camps in 1996. Credit: Howard Davies/ Oxfam]
Since the massacres of 1994, Rwanda has remained a grieving divided nation. It is estimated that 800,000 Tutsis and moderate Hutus were killed at that time. Then, at the end of 1996, 1.2 million refugees returned (an estimated 20% of the country¼s population). In the areas of Gikongoro and Butare, in southern Rwanda, the return of so many people has increased pressure on all resources, but a chronic problem was lack of clean water. The water supply system had fallen into disrepair or been damaged in the conflict. Oxfam water engineers found, however, that the supply could be restored quickly and inexpensively, to provide water to many thousands of people. This project is a joint venture between Oxfam UK and Ireland, Oxfam America, and Australia's Community Aid Abroad.
Local people themselves are providing the labour to rebuild and maintain the water supply, and some are selected to be trained as technicians. The most obvious benefits of the project are the physical constructions. Mainly underground, 150 kilometres of water system pipework have been restored, with taps above ground at intervals for water users. The completely new parts of the system are 400 springs, each providing clean water to an average of 270 people.
Other building work includes 40 toilets, and the construction of washing slabs, due to popular demand from women, who are usually responsible for collecting water. The slabs have been a big hit. Adjacent to a spring and standing waist high, they enable the family laundry to be done in the clean basins with clean water, which saves women having to carry water or crouch in mud over the spring.
The majority of the women in the area, and indeed in Rwanda as a whole, are widows with responsibility for large families, which usually include orphaned children. Having clean water from new springs, and some clean places to wash clothes, makes life just a little easier for communities as they begin to rebuild their lives after losing their loved ones, homes, and livelihoods in the devastation of war.