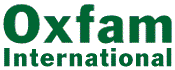 Although the civil war in El Salvador ended in 1992, communities still bear the scars.
"My family died during the war, my parents, brothers, uncles, and cousins, all my family."
Jose Maria Fuente - cashew nut farmer
Many people fled to neighbouring countries or to rural parts of El Salvador to escape the violence. When they returned, people found their homes and communities destroyed. The area was devastated by fighting, there was no running water, no accessible roads, and no electricity.
The Sectoral Economic and Social System (SES) is an organisation which helps poor families returning to their home areas, to rebuild their houses, their livelihoods, and their confidence. SES is funded jointly by Oxfam-in-Belgium, Oxfam America, Oxfam Quebec, Community Aid Abroad, and Oxfam UK and Ireland and has helped to set up several projects, including one to encourage farmers to experiment with crops other than the basic grains grown before the war. Organic cashew nuts have been the most successful alternative. Farmers chose cashews because the trees require little attention and give shade to the land, there are no major pests or diseases, and the market demand for cashews is usually high. There are now 12 families producing cashew nuts on the island.